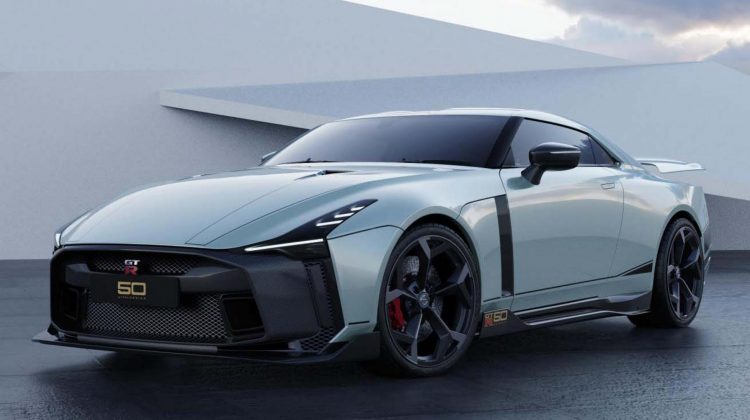 The New Nissan GT-R50 by Italdesign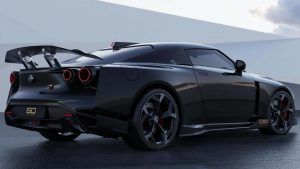 We now invite you to gaze upon these images of the production-ready Nissan GT-R50 by Italdesign. Notice anything? Yep – it's barely changed at all from the quite stunning concept car first revealed to celebrate the GT-R's half-century back in 2018. It's more aggressive than a normal GT-R, yet somehow more elegant. Like a, oh, we dunno, a grizzly bear in a ballgown. Yeah, that.
Only 50 of these things, appropriately enough, will be made. You might be surprised to learn that a few build slots are still up for grabs. In return for around £885,000, a GT-R50 can be yours. You won't be surprised to hear that, at that money, personalisation is everything. Italdesign says "customers across the globe are in the process of selecting personal specifications for their vehicles", and a few inspirational ideas have been dreamed up in these renderings of the finished car.
The major shock? We're not so keen on the blue – surely the most iconic GT-R colour, thanks to the R34 Skyline. It's a touch too lurid, perhaps. What do you think?
Customers, who'll take delivery of their designer label GT-R between late 2020 and the end of 2021, are getting more than just flash bodywork. Just as well really, given they're shelling out ten times what a standard GT-R costs. Under the bonnet lurks a thoroughly uprated version of the Nissan 3.8-litre bi-turbo V6. Here, it's developing 711bhp – as much power as a Ferrari F8 Tributo.
"What a waste", you might be thinking. After all, this thing's going to be far too fragile and valuable to ever use that mighty motor, or drive on the street. Not so. In fact, you can even road-trip one of these. Now who would be crazy enough to try that?
*all credits to its rightful owner : Topgear.com