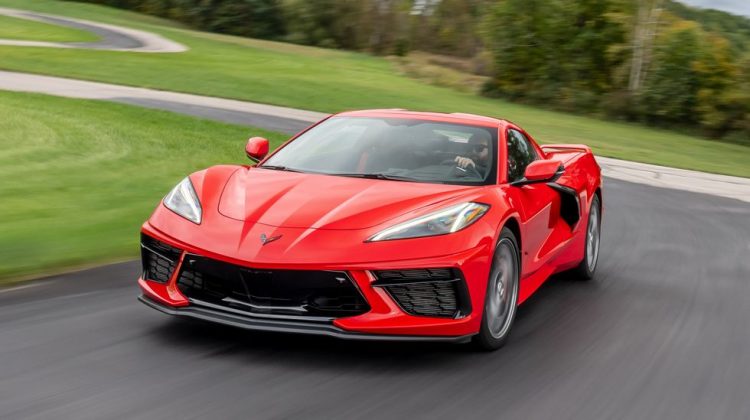 Meet the Affordable Super Car: Chevrolet Corvette C8 2020
Overview
The long wait is finally over, and the new mid-engine Chevy Corvette is as good as we could have imagined. So good, in fact, that it earned a 2020 10Best award right out of the gate. The eighth-generation Corvette (a.k.a. C8) now boasts an engine behind the passenger cabin, just like the best from Porsche, Ferrari, and McLaren but at many thousands of dollars less. Incredibly, the base C8's pricing starts at $59,995, making it a relative bargain. Available as either a coupe with a removable roof panel or a convertible with a retractable hard top, the revolutionary Chevy has a 6.2-liter V-8 making 490 horsepower that endows it with supercar performance.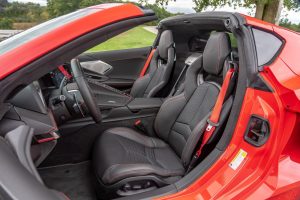 Highs:
Supercar performance at an amazing price, comfortable on the road and incredible on the track, much improved interior quality.
Lows:
Needs more visceral exhaust and engine sounds, doesn't brake and handle as well as the C7.
Verdict:
With incredible performance at an incredible price, the C8 Corvette is also the best Corvette yet.
The Corvette is available as either a coupe or a convertible with a folding hard top. We'd pick the convertible so we can hear the V-8's roar unhindered. We'd go with the 1LT version, which starts at $67,495, and add to it only the Z51 package ($5000) to keep our Corvette as performance oriented and affordable as possible. Our Corvette stickers at $72,495.
Engine, Transmission, and Performance
Although the engine is in a new location—now behind the passenger compartment instead of in front of it—it remains a 6.2-liter V-8, albeit one making 490 horsepower and 470 lb-ft of torque. With the dual-mode performance exhaust that is part of the Z51 package, it makes 495 horsepower. The Z51 option also adds an electronic limited-slip rear differential, more aggressive brakes, and summer tires. An eight-speed dual-clutch automatic (a Corvette first) is the sole transmission. It is controlled either by a push-button gear selector on the center console or by using two large steering-wheel-mounted shift paddles. A manual transmission is not available. In our testing, we recorded a zero-to-60-mph time of 2.8 seconds and the quarter-mile in 11.2 seconds at 122 mph in a car equipped with the Z51 Performance package ($5000) and the optional FE4 magnetorheological dampers (an additional $1895). We managed a braking distance of 149 feet from 70 mph and recorded 1.03 g's on the skidpad. Even in base form, however, the new Corvette is capable of heroic handling and delivers big thrills on both road and track.
Fuel Economy and Real-World MPG
While the EPA has not released its official estimates for the 2020 Corvette, we have subjected it to our own highway fuel-economy test. We drove a C8 for 200 miles at a steady 75 mph and recorded 26 mpg.
Interior, Comfort, and Cargo
The new Corvette's interior remains a two-seat layout, but the cabin is moved up closer to the car's nose to accommodate the mid-mounted engine. The interior is lined in materials such as leather, real metal, and imitation suede and even has a stitched headliner. Speaking of the roof, it's removable just like those of previous Corvettes, and it fits inside the car's trunk just aft of the engine compartment. The rear trunk also can accommodate two golf bags, and a front trunk offers space for luggage or cargo while the roof is stowed. The driver sits behind a squared-off steering wheel and a 12.0-inch reconfigurable gauge display; a large infotainment touchscreen is angled toward the driver for ease of use. The interior design takes the driver-focused concept to the max, bisecting the cockpit with a tall bank of switches for the car's climate-control system. Overall, the new Vette's cabin is quite good. Upgrading to the 3LT package gets you upgraded materials such as sewn leather on most of its interior surfaces, plus carbon-fiber trim.
The new Corvette offers two trunk areas, one ahead of the passenger compartment and one behind the engine, for a total of 13 cubic feet of storage space. Chevrolet says the Corvette can fit two sets of golf clubs in the rear compartment when they are stacked on top of each other. In our testing, we were able to fit our set of clubs easily, so Chevy's claim seems valid. When it came to seeing if there was room for our carry-on-size suitcases, we were able to fit one in the Corvette's front trunk and two in the rear compartment.
see original post: https://www.caranddriver.com/chevrolet/corvette