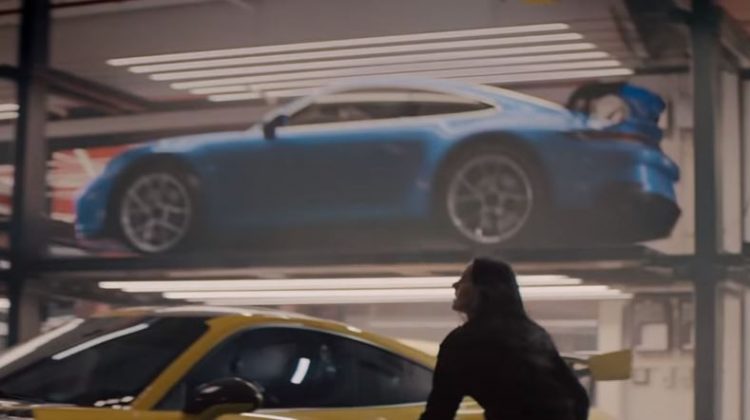 EXCLUSIVE! The all new 2021 Porsche 911 GT3
Now that the Turbo incarnation of the 992 Porsche 911 is among us, the time has come to look at the next performance-focused derivative, namely the GT3. A set of spyshots portraying the rear-engined machine on the Nurburgring givens us the best look at a prototype to date.
With most of the camouflage off, we can notice the massive central intake in the front apron, which reminds one of the 1973 Carrera RSR (you'll find an example of the air-cooled racer doing its thing at last year's Goodwood Festival of Speed in the video below).
Then there's the carbon fiber hood, which features a pair of massive vents. Moving to the posterior of the test vehicle, we see the swan neck wing that was confirmed by the production model – the latter, which you'll notice in the gallery above, was briefly shown in Porsche's The Heist production, released back in January. Oh, and let's not overlook the generously-sized rear diffuser.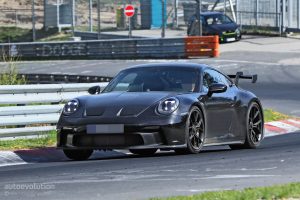 Keep in mind that various prototypes that were spotted without a rear wing have sparked rumors of a Touring Package return.
On the firepower front, the GT3 will, fortunately, remain a member of the naturally aspirated army, with this having been confirmed by the soundtrack of multiple prototypes.
Since Zuffenhausen engineers have developed an all-new atmospheric 4.0-liter flat-six for the range-topping 718 models, with this being based on the twin-turbo 3.0-liter boxer animating the 922 Carrera models, a further evolution of the unit could make its way into the tail of the new GT3.
Of course, Porsche could also bring forward a refined version of the also-4-liter engine animating the 991.2 swansong, the 911 Speedster (compared to the 991.2 GT3 unit it uses as a starting point, this features a gasoline particulate filter to cope with the latest emission standards).
The manual transmission is a delight that's here to stay. Lap time junkies have no reason to fret, though, as the GT3 will get a bespoke configuration for the 992's new eight-speed PDK dual-clutch.
We should see the 992 Porsche 911 GT3 being introduced by the end of the year, with this coming as a 2021 model.
Credits: autoevolution.com