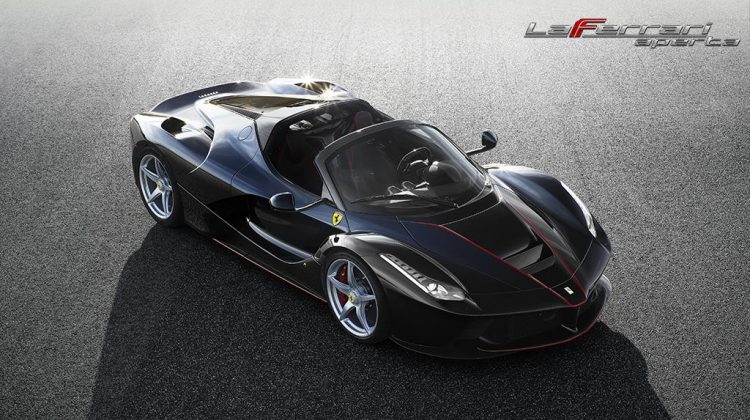 LAFERRARI APERTA – TECHNOLOGICAL EXCELLENCE, PERFORMANCE, STYLE & EXCLUSIVITY
Ferrari's unique core values have been raised to a whole new level in the car launched to mark the 70th anniversary of the foundation of the company.  Designed for Ferrari's most passionate clients, the LaFerrari Aperta is the new limited-edition special series model, and just a few examples – all of them already accounted for - of this spider version of the acclaimed LaFerrari supercar will be built.
The LaFerrari Aperta's styling retains the essential characteristics of the coupé. It is a futuristic and absolutely extreme car that seamlessly marries form and function whilst still retaining clear links to classic Ferrari styling cues.
The only significant difference is the door rotation system: when fully open, the Aperta's doors are now at slightly different angle than in the coupé version.
The Finest Expression of  Ferrari Technical Capabilities In Both GT And F1 Engineering
As far as performance figures go, the Ferrari LaFerrari Aperta specs are just as formidable as its Coupe brethren. The hypercar will run these figures: 0-60 mph in less than three seconds, 0-124 mph in less than seven seconds and 0-186 mph in 15 seconds. Its top speed is currently rated at over 217 mph. Driving a LaFerrari is an experience unto itself. If the high-voltage battery is charged, it will shut down the V12 under light load. Manually shifting the 7-speed transmission offers instant gratification, but shifting isn't really necessary. That's because this car makes power in any gear at any rpm. With a combined 949 combined horsepower and over 663 pound-feet of torque, the Ferrari LaFerrari Aperta specs combine its cutting-edge engineering with efficiency, power, and stunning looks.
Hy-kers system
TOTAL MAXIMUM POWER: 963 

CV

TOTAL MAXIMUM TORQUE: >900 

Nm

V12 MAXIMUM POWER*: 800 

CV @9000 rpm

MAXIMUM REVS: 9250 

rpm

V12 MAXIMUM TORQUE: 700 

Nm @6750 rpm

ELECTRIC MOTOR OUTPUT: 120

Kw
Performance
MAXIMUM SPEED: >350

km/h

0-100 KM/H: <3 

sec

0-200 KM/H: <7 

sec

0-300 KM/H: 15 

sec
Ice
65-deg. V12

BORE AND STROKE94 x 75,2 

mm

TOTAL DISPLACEMENT6262 

cc

COMPRESSION RATIO

13.5:1

SPECIFIC POWER128 

CV/l